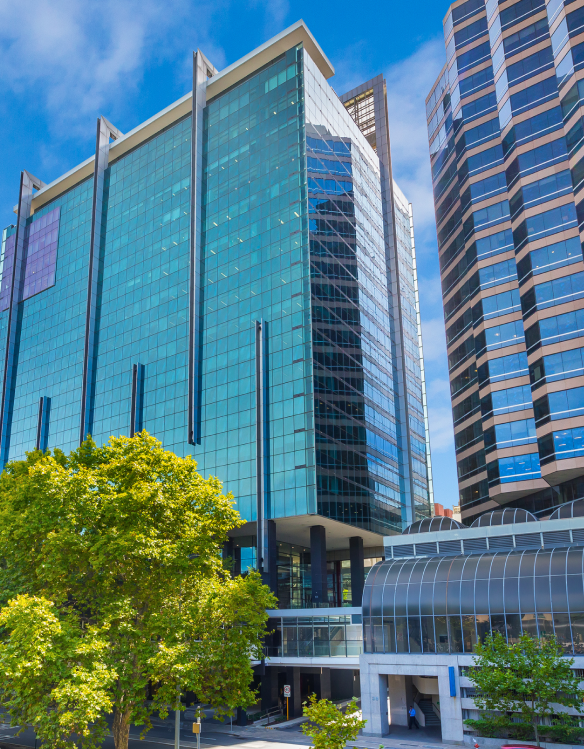 Your place to shine.
It is possible to feel a sense of belonging among city crowds. Why not join a community where wellness is at its heart. It's possible at Alluvion.
Be part of something

bigger.
Located in the heart of Perth's most desirable CBD precinct and fronting
the beautiful Swan River, Alluvion boasts premium facilities, uninterrupted
180-degree views and unrivalled connectivity.
Take your business to new heights.
22,496sqm over 15 levels of A-grade office space and dedicated concierge with premium services.
An uninhibited outlook.
Panoramic 180 uninterrupted views of the Swan River and column free floorplates maximise natural light.
A seamless commute.
Direct access to St Georges Terrace and the Freeway with the Esplanade busport and train station a short walk away.
Management excellence.
Managed by Australia's leading property managers, offering outstanding value and benefits, including a dedicated executive concierge, access to offsite meeting and event spaces at Dexus Place.
Transforming your arrivals.
New end-of-trip facilities, floor refurbishments and destination lift control upgrades due for completion in early 2022.
Welcome to

All
uvion.
A workspace like no other.
Your journey has likely started long before your arrival to Alluvion,
but this is a chance to start fresh.
Step into an impressive triple-height, marble clad lobby and be greeted by our friendly concierge. Then, meet your first ally of the day, the one with the coffee. Alluvion's onsite café team is ready to take your order before the first email chimes.
Uninterrupted panoramic views.

Offset central core and column-free floorplates, offering spectacular Swan River views. Natural light floods each floor, offering high energy efficiency.
Flexible spaces with room to move.
Generous sized floorplates, averaging 1,569sqm with spacious floors, allowing for flexible workspace design.
Future focused.
On-floor refurbishments are underway, including lift lobbies and bathrooms. End-of-trip facilities and destination lift control enhancements in progress.
Serious about sustainability.
5.5-star NABERS Energy rating.
4.5-star NABERS Water rating.
Natural light flooding through all floors.
A place you feel

welcome.
Designed to help you thrive.
Alluvion offers an inclusive, wellness focussed experience for all of its customers.
You'll feel the warm, vibrant energy and be welcomed with a smile from our friendly concierge. Perform at your best and feel a sense of belonging at a workplace designed to make you shine.
Enjoy a warm welcome.
Step into an impressive triple-height, marble clad, ground floor lobby and be greeted by our friendly concierge, who can assist with accessing a range of services, including priority access to childcare and dry cleaning services.
Your day starts here.
Grab the best coffee in the precinct at LouVe café, in the lobby. LouVe is available for your breakfast and lunch needs, and offers function catering with a bookable boardroom.
Prime parking.
Ample parking for customers.
96 car parking bays and 22 motorcycle bays

Stay connected with
our customer portal.
Our online customer portal brings new levels of community engagement through tailored content that includes real-time information on Alluvion and access to special events and member only deals.

Customer service
at your fingertips.
The Dexus Customer Support Centre is a web based facility that provides customers the ability to lodge and track service requests, purchase services, receive notices on building management issues, and access information relevant to your occupancy of the building. In addition to the customer response centre website, you have access to the 24 hour dedicated Service Centre on 1300 339 870.
Same name,

new experience.
Upgrades that transform premium, to superior.
With lift upgrades already completed, Alluvion is undergoing some changes to
enhance your workplace.
For when you arrive.
New lobby furniture and outdoor forecourt refurbishments will further enhance modern day amenities.
A great way to end your journey.
Alluvion customers will benefit from a new on-site wellness centre with gym equipment and bookable complimentary classes as well as upgraded end-of-trip facilities, with 238 lockers, 81 bike racks and towel service.
For where you work.
On-floor refurbishments are underway, including lift lobbies, bathrooms and dedicated customer areas underway.
Fitouts that suit

your needs.
Shaping future workplaces.
At Dexus, we've long understood the complexities of property and the value of having a workspace that meets the needs of your workforce. Now we're introducing Dexus Fitout Solutions: fully integrated fitout services from inception to completion.
A seamless fitout experience.
Our proven track record and team experience ensure we're able to deliver high quality fitouts, while our focus on providing exceptional service ensures that we provide a fitout programme that reflects your desired journey. From project inception through to completion, we're by your side - helping you shape your workplace for now and the future.

What else can you expect when working with Dexus Fitout Solutions?
Beginning your journey.
Your relocation journey starts long before the day you move in.

At Dexus we have the workspace planning expertise to assist you to develop, analyse your current and future needs and connect you with the latest fitout trends and innovations. By supporting you from initial planning and design right through to installation, you'll be able to make the right decisions at the right time, speeding up the process and getting a better result.
A fitout made for you.
Your fitout should not only consider your current workforce and needs – it should also take into consideration future workplace needs and emerging trends. Our innovative workplace designs combine advanced technology with sustainable practices to meet your goals and prepare your workforce for the future. What's more, our flexible delivery models help you choose the ideal relationship model for alignment between the particulars of your lease, the engagement of consultants and the delivery of your workplace.

Today's workforce is more diverse than ever - and your fitout should reflect that.
With our fully integrated turnkey
fitout services, you'll be able to:


Complete your fitout programme in an accelerated timeframe.


Choose from one of our flexible delivery models.


Achieve cost savings from Dexus scale and partner agreements.


Provide your workforce with an inspiring space where they can thrive.
Find your space
Level
Space Options
Availability
Price
Outgoings
Floor area
Fit-out
See more
Level 11
Full floor, available to sub-divide
30 Nov 2022
POA
$184 psm
1569 sqm -
101-250 people
Level 8
Full floor, available to sub-divide
30 Nov 2022
POA
$184 psm
1570 sqm -
101-250 people
Level 7
Full floor, available to sub-divide
Available now
POA
$184 psm
1569 sqm -
101-250 people
Level 6
Full floor, available to sub-divide
Available now
POA
$184 psm
1569 sqm -
101-250 people
Perth's most

desirable precinct.
Undeniable connectivity.
With direct access to St Georges Terrace and Brookfield Place, Alluvion is
positioned in the heart of the CBD, within the best Perth has to offer.
The Dexus &
Cape Bouvard

difference.
Not all developers and property managers are created
equal. With Alluvion being managed by two of
Australia's leading property management firms,
Dexus and Cape Bouvard, you get the best of both worlds.